The Vaughn Monroe Appreciation Society was started in August of 2001 by Lou Kohnen and Claire Schwartz. We are a not-for-profit organization whose sole purpose is to perpetuate the memory and music of one of the foremost American baritones and bandleaders of the 20th Century.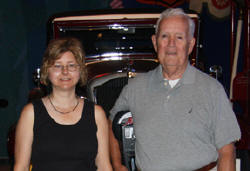 Lou has been a Vaughn Monroe fan since the 1940's, and had the pleasure of meeting him several times, and actually singing with him and his band on Steel Pier in Atlantic City. Like Vaughn, Lou is a private pilot, and was encouraged by Vaughn during that particular meeting. His collection includes just about all of Vaughn's recordings. Lou has accepted the role of membership coordinator.
Claire hadn't even heard of Vaughn Monroe until 1997 when the Western Channel was airing a movie called "Singing Guns". She was touched by the personality that came through the screen in his movie role, and impressed by his baritone singing voice, but didn't know that he was anything more than an obscure singing cowboy from the era of the movie matinee western. Since then she has discovered what an impressive career this "cowboy" really had. Claire has taken on the challenge to be webmaster of this site.
| | |
| --- | --- |
| Claire's ride: 1937 Chevy Sedan | Lou's ride: Piper Cherokee Arrow 200 |
---
Website. October 7, 2001 was the 90th anniversary of Vaughn Monroe's birthday. We thought it especially appropriate to unveil the Vaughn Monroe Appreciation Society website on that date, although it was still very much under construction.
We created this website as the primary means of communication and interaction for our new appreciation society. And since there was little out there in way of sites dedicated to Vaughn Monroe, we hoped that our website could bridge the gap, and serve a useful purpose.
The website was subsequently upgraded in November 2001 and maintained a very comprehensive collection of information added over a four year period.
The website was again significantly modified in September 2005. The information accumulating on the previous website was becoming unwieldy, and the site was becoming difficult to navigate. (I likened it to my "online scrapbook.") Major alterations included a more unified format with an enhanced sustaining member section.
We sincerely hope that you enjoy touring the website. We have included some surprises; for example, you may retreat to the "Patio" from the Ballroom (if you haven't already, try clicking on the double French doors in the middle of the screen). We hope you visit often.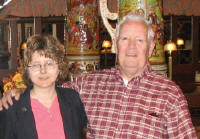 Claire and Lou (2003)