Herald Excerpts
Dayton Journal Herald
July 9, 1957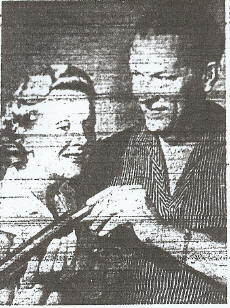 Ready for Opening Tonight
IN REHEARSAL, with a gun such as Annie Oakley used for sharp shooting, are Constance Moore and Vaughn Monroe in "Annie Get Your Gun," opening in Memorial Hall tonight.
---
LET'S GO PLACES
By A.S. Kany
July 9, 1957
CONSTANCE MOORE and Vaughn Monroe play the leads here. A report of measles in the troupe before reaching Dayton is true. To this extent--one of Miss Moore's youngsters contracted the measles last week, so everyone took shots and all was smooth sailing.
Program cover from Dayton, Ohio production
In 1957, Vaughn Monroe appeared with Constance Moore in a stage productin of Irving Berlin's "Annie Get Your Gun." The show played at the following venues:
| | | | |
| --- | --- | --- | --- |
| Dates | Theatre | Location | Producers |
| July 9 - 14 | Memorial Hall | Dayton, OH | Kenley Players |
| July 22 - 27 | Music Box | Brandywine, PA | G. Rast & J. Stark |
More Information
The Story from Brandywine, PA program
Program Excerpts from Dayton, OH
Program Excerpts from Brandywine, PA (with photographs)
Newspaper opening night article from Brandywine, PA

The Dayton Daily News reports that the show was originally scheduled to open in Brandywine, PA first, the week of July 4, but a windstorm just hours before the curtain was to go up, leveled the tent theater in which they were to perform and the show was cancelled.