VMFC National President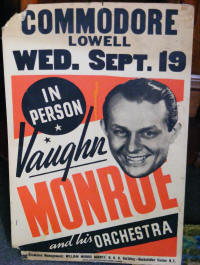 My name is Eileen Havey, President of the National Vaughn Monroe fan club since 1942. I knew Vaughn personally, and saw him hundreds of times. Vaughn himself appointed me national president. I saw him perform in Boston, NYC, Ohio, Old Orchard Beach, Maine, Canobie Lake Park and Hampton Beach, NH and many other places. I received orchids from him when I had surgery in 1949. Whenever my mother came with me, he would call her "Ma".
I have two large posters and many scrap books filled. Maree Lee and I became personal friends. I also became quite friendly with his wife Marion and visited their Park Avenue, New York apartment and their West Newton home.
I was on the WHDH radio program in Boston with Vaughn in 1948 when he received an award. I have a sound recording and an 8 x 10 portrait of this.
Submitted by: Eileen Havey