Interviews and Autographs
I'VE BEEN A FAN SINCE 1943 AND HAVE MANY THINGS PERTAINING TO VAUGHN MONROE. ONE IS OVER 20 YEARS FRIENDSHIP WITH EDDIE JULIAN, VAUGHN'S DRUMMER FOR 13 YEARS.
IN THE LATE SEVENTIES AND EARLY EIGHTIES, I WAS A FEATURE WRITER FOR THE "BIG BAND" MAGAZINE (NO PAY - JUST THE LOVE OF IT). DURING THAT TIME I LIVED IN TEXAS. I DID AN INTERVIEW WITH JUNE HIATT WHO LIVED THERE, AND I HAVE THAT ON TAPE PLUS THE STORY I DID FOR THE MAGAZINE. ALSO, A FEW TAPES OF EDDIE JULIAN AND I TALKING.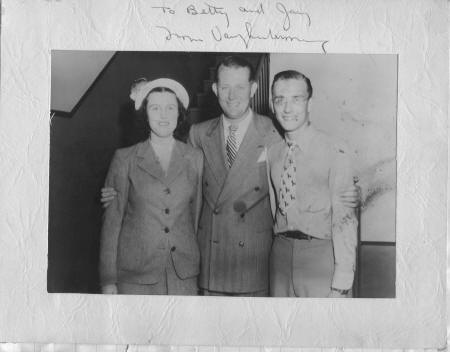 Convention Hall, Asbury Park, New Jersey, July 17, 1946
HERE IS THE ONLY PHOTO I HAVE OF VAUGHN MONROE. ALL THE REST IS STUFF I CUT OUT OF MAGAZINES AS A KID. IT WAS TAKEN AT CONVENTION HALL IN ASBURY PARK, NEW JERSEY. I BELIEVE IT WAS MY BIRTHDAY - IT WAS A "CAMEL CARAVAN" SHOW AND JACK TEAGARDEN WAS THE GUEST. THE ONLY OTHER TIME I SAW HIM WAS AT HIS OPENING NIGHT AT THE COMMODORE HOTEL IN NEW YORK, 1946.
I HAVE HAD A BALL CHASING THE BANDS. GOT TO MEET SOME FOLKS THAT IN MY WILDEST DREAMS, I NEVER THOUGHT I'd EVEN SEE.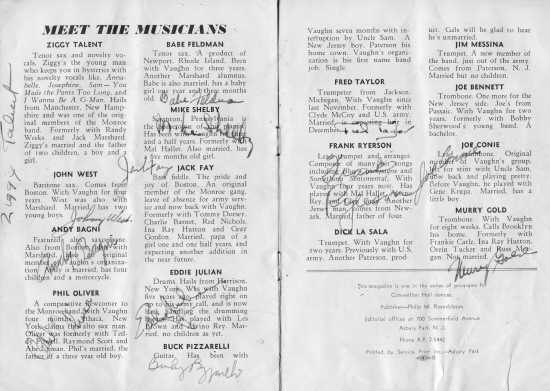 YOU'D BETTER BELIEVE "ALL" THOSE AUTOGRAPHS. I RAN MY FEET OFF TRYING TO GET THEM AND WAS TRYING TO KEEP THE GAL WITH ME HAPPY AT THE SAME TIME.
Submitted by: Jay Montague