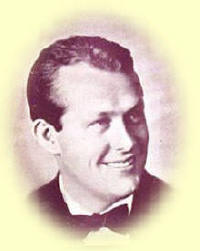 Vaughn Wilton Monroe
1911-1973
The Big Band Era. Swing. World War II. The optimism of post-war America. This was the culture and times in which Vaughn Monroe lived and worked at the height of his career, and which his contributions had a hand in shaping.
For those of us too young to remember, Vaughn Monroe was one of the popular male vocalists to come out of the big band phenomenon. He had a rich baritone voice that he used masterfully. He played trumpet and trombone with the same virtuosity. His 6-foot frame and likable personality put him out in front of the orchestra and behind the baton.
Many a young couple fell in love to Monroe's crooning of some sentimental melody. The list of his hit songs is as long as the memories that his music invokes for those of us who were there.
CLAIRE SCHWARTZ, 2001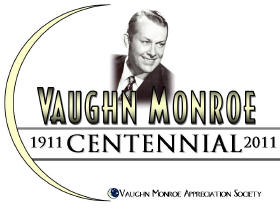 Vaughn Monroe has to be the most popular singing bandleader there has ever been. There have been numerous bandleaders who have sung, and been blessed with good voices, but regardless of their abilities, their vocal offerings came second to their conducting fame. Vaughn Monroe was the exception -- a bandleader who, in the public perception, was first and foremost a singer.
EDWARD CHASE, 2000
"The Vaughn Monroe Collection" 2CD set - Flare U.K.
---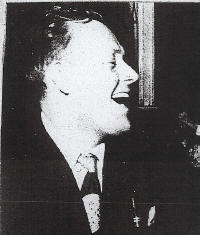 In Memory...

Vaughn Monroe
Still Racing with the Moon
Dedicated to perpetuate the memory and music of one of the foremost American baritones and bandleaders of the 20th Century.
Search for Songs on VM CDs
What's New
New! Band We are saddened to report the passing of Moonmaid Lois Wilber Johnson on December 15, 2014 12/27/2014
Discography V-Disc information updated thanks to Bob Mullen. 11/30/2014
Sustaining Members list updated with active members for 2014 identified. 10/18/2014
Spotlight Stage in your Backstage Pass to Vaughn Monroe--"Annie Get Your Gun" is back!! 8/8/2014
Journals in your Backstage Pass to Vaughn Monroe-- "Vaughn's New Hampshire Hideaway" by Richard Longtin. This decade-long research project was submitted by Dick and his wife Pat for our members to enjoy! 7/6/2014
Dawn Villers 11/30/2014

Holly Gray Meyer 10/27/2014

Danni Sullivan 10/20/2014

E. George Strasser 10/7/2014
Members
A warm thank you and heartfelt acknowledgement to our newest sustaining member:
Gundel (Danni) Sullivan
and those who've renewed for 2015:
Loraine Frohriep
Glenna SentGeorge
Joel Klein
Marcia McVay
Joseph Hoermann
Kathryn Sprouls
Dick Bagni
Edward Shallow
Michael Kord
Richard Longtin
Patricia Longtin
O. J. Sikes
John Tumpak
Dan Mugan
Feature

Gee, I Wish
Click on microphone to listen
Happy New Year!
Guess who?